'

Just like everything thing else in our collective lives right now, we all find ourselves making big changes.  Changes in how we work, grocery shop, get our kids back to school, travel, socialize and navigate our day to day existence.   Many of the changes – like wearing a mask and social distancing – will not last forever, but the impact of this pandemic will make a permanent mark on our society in areas ranging from routine hand washing to how our schools are operated and our work lives are arranged.  How we adjust and build upon these forced changes in our lives will define how we move forward with joy, peace, and anticipation for our futures. At Nandina, we realize that the pandemic has impacted how we, as designers, work with our clients, suppliers and partners. We believe the changes are positive and have brought out the strengths that we bring to the table.  We are committed to building a better model for design; a new normal for interior design that is better for our design team and better for you, our design partners!
Over the past several years our design team had begun to improve our skills and the technology to do interior design from a distance.  We had many clients that would ask us to take on a project that was long distance (a vacation home or a second home in another part of the country or outside the US).  We had developed our technology and gotten acquainted with video conferencing and all of its glitches prior to being thrown into the virtual world in which we exist now!  That definitely helped us to transition to this new normal a lot easier – but, over the past six months we have implemented some changes that we believe has improved the way we work.   We have enhanced our design studios, shifted our work schedules to a combination of work from home and in studio to allow for social distancing , and expanded our virtual offerings to include video initial consultations and design presentation and appointments.    We believe that all of these changes are proving to make us more creative, adaptable, and efficient while maintaining our commitment to you and your individual design project.
Three New Updates
1. Transformation of our Showrooms
New Normal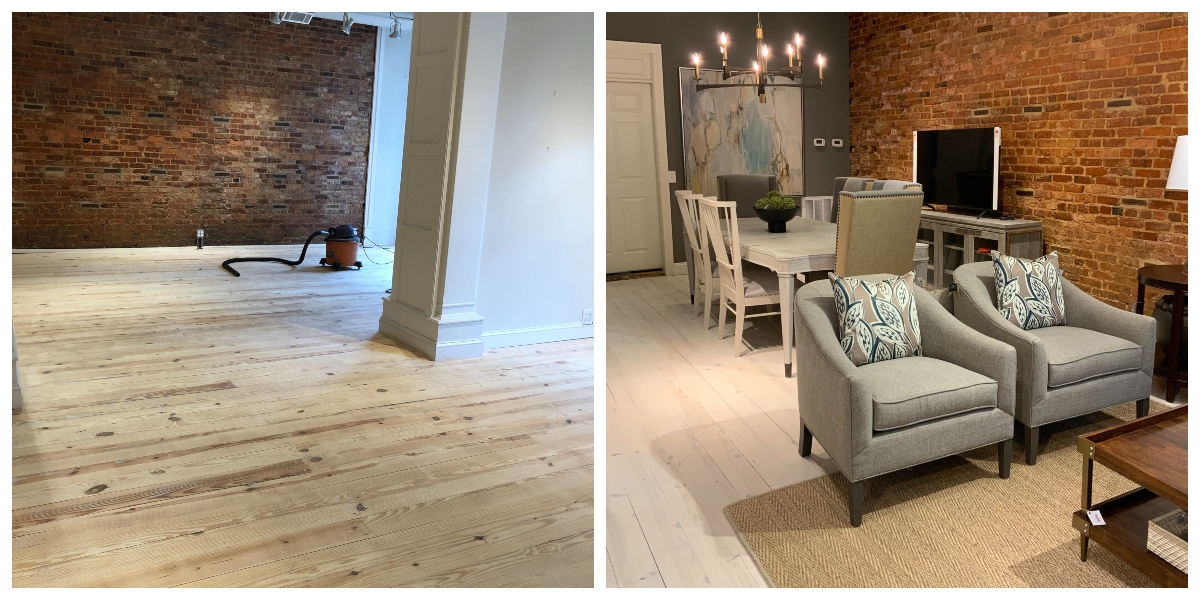 We want our clients to experience design in a whole new way and our redesigned showrooms will be the vehicle for that experience. Meant to inspire, each space will be richly layered with custom furnishings, lighting, art and accessories and feel more like a designer showcase home than a typical furniture showroom. This will be interior design at its best, with the end goal of allowing our clients to touch, feel, sit in and learn about the high quality of our fully customizable product.
2. The Initial Design consultation
New Normal
We believe the initial meeting with a potential client is the most important meeting of the entire design process.  It allows you, the client,  the time to ask questions and more importantly to determine if you think that Nandina and our design team will be a fit with you and your project.  It is so much more than just a meet and greet.  Historically we have traveled to potential client's homes at a $250 fee.   We still offer this form of initial consultation following social distancing and mask requirements , but in addition we now offer free of charge two additional initial meetings that require only a scheduled appointment:
a. In studio scheduled 30 minute appointment to meet with a Nandina Designer to discuss your project and ask questions about how we work
b. A scheduled 30 minute video conference to meet with a Nandina Designer and to share your project with a video tour if you so choose.
3. In studio design presentations and video conference design presentations
a. In studio design meetings and presentations:   Our re- designed studios allow for a collaborative design experience with our clients and our design presentations allow the client the ability to touch, feel  and see our expansive selections of fabrics, furniture, and accessories in real time.  We follow a strict mask policy and practice social distancing by limiting our studio capacity.
b. Video conference design presentations and meetings:  This is an area where we have really upped our game – using new tools to give our clients an enhanced design experience over video chat. You will be able to see well developed design boards, floor plans and sketch concepts.  We can even have fabric samples shipped directly to you!
At Nandina we have chosen to embrace the change that we are confronted with and to build a new and better way to accomplish interior design that is full of   "Real Life, Real Style"