The Art of Creating a Stylish & Functional Bar
The one enduring legacy of the "Mad Men" series is the return of the in home bar.  So many classic scenes centered around the mystique of the "cocktail".  Setting a stylish and functional bar has become a design element that is not only glamorous but functional as well.  A beautifully set bar adds a hint of sophistication to your home and to any event.  It invites your guests in and sets the mood for festivity or quiet conversation.  It is always fun to meet for happy hour at the hottest spot in town – now that "hot spot" can live right in the privacy of your own home.  So let's drink a toast to setting the bar!

The Stylish Bar
Whether your bar is a permanent design fixture in your home, or an impromptu set up for a special event, here are the 5 key elements to consider.
1. Use what you have. Setting the Bar 
An incredible bar does not have to be custom built at the tune of thousands of dollars. The most Stylish bars we have seen have often been set on an antique piece of furniture, an old wooden farm table,  or on a beautiful bar cart that was the last minute addition to a room.
2. Choose beautiful glassware. 
This is an element of the bar where you shouldn't just make due.  Find vintage glasses, or cut crystal that expresses your personality and makes the bar sparkle with life.  If you are a wine aficionado choose incredible wine glasses to add to your bar.  If cocktails are your thing – make sure you have the perfect rocks glass.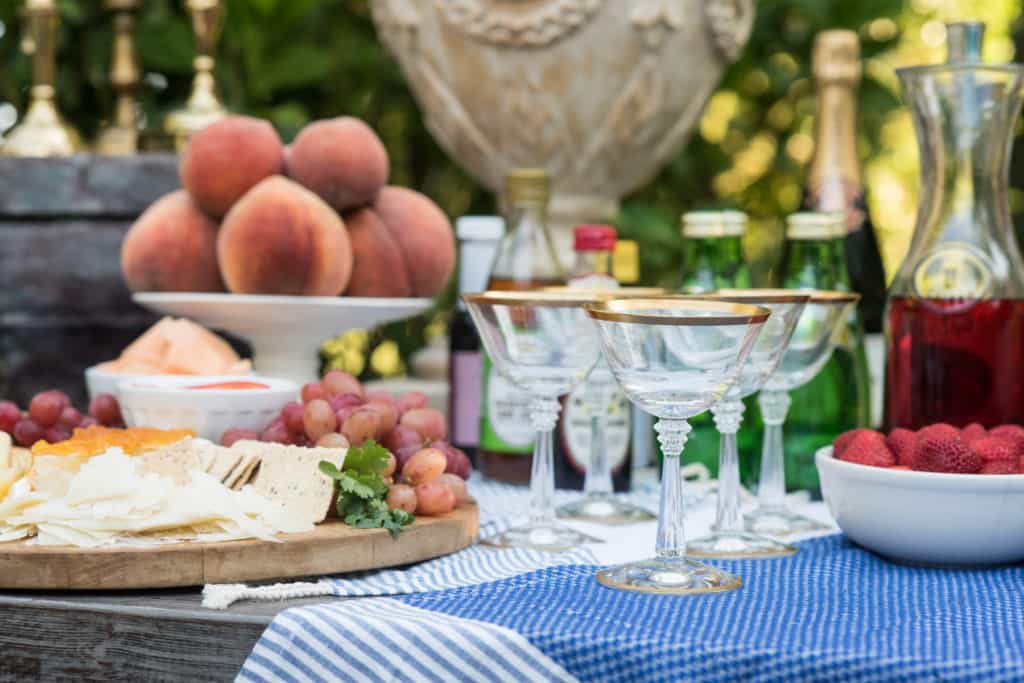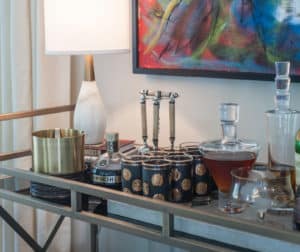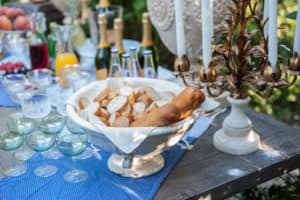 3. Mix Materials. 
A beautiful bar is not just a bunch of reflective glass and metal.  It is important to bring in several different element like horn, brass, ceramics, wood and stone.  Mixing materials allows the bar to look curated, rich and collected.
Adding a small lamp, books, a custom leather tray, and vintage black and gold glasses takes this bar cart from good to glamourous.
4. Select decanters, bar tools and trays that make a statement. 
These elements are often the most pricey pieces of outfitting your bar, but the investment is well worth it.
5. Always add conversation pieces. 
To really create a statement you have to think beyond the functional.  The wow factor of a beautiful bar is usually something beyond the tools, bottles, and glasses needed to make the perfect cocktail.  This is your opportunity to express yourself.  Think fresh flowers, books, urns, statues, serving bowls, cutting boards, vases, candles, and lamps.  Even furniture and rugs around the bar add design elements that should be considered. Nothing is off limits if it fits the scale and style of the setting.
Setting the Bar 
---
setting the bar
The Functional Bar
Here are the 5 things you have to consider if you want a bar that is not only beautiful, but will turn out the perfect cocktail every time. How you stock the bar is based on several variables:
Is it a specific bar for a special event like a garden party champagne bar or a classic bourbon tasting bar?
Is it a home bar for a big event or for everyday use for a nightly cocktail?
One thing to always keep in mind is to stock your bar with the quality of spirits that you enjoy.  When choosing the spirits for my own home bar I have to confess – often the beauty of the bottle outweighed the quality of the contents! Ultimately the "home bar" is your bar.
The Classic spirits to keep on the fully stocked bar: Vodka, Gin, Tequila (100% Blue Agave), Rum, Bourbon, Scotch, Cognac
Standard Liqueurs:  Vermouth (dry and sweet), Cointreau, Disaronno, Campari
Mixers:  Grenadine, Rose's Lime juice, Simple Syrup, Bitters, Club Soda, Tonic Water, Cola, Ginger Ale.  If you really want to step out of the box use artisanal mixers from online companies like Fever Tree, Q soda, and Sonoma Syrup.  The tastes are incredible and the bottles are beautiful on the bar
Essential Tools: Metal mixing cup, Hoffman strainer, jigger, bar spoon, muddler, citrus peeler and a handheld citrus press
Signature Cocktails –  You wouldn't serve your guests a bad steak, so why would you serve them an average cocktail.  Have a couple of hand crafted signature cocktails up your sleeve that will have your guests raving about your mixology skills.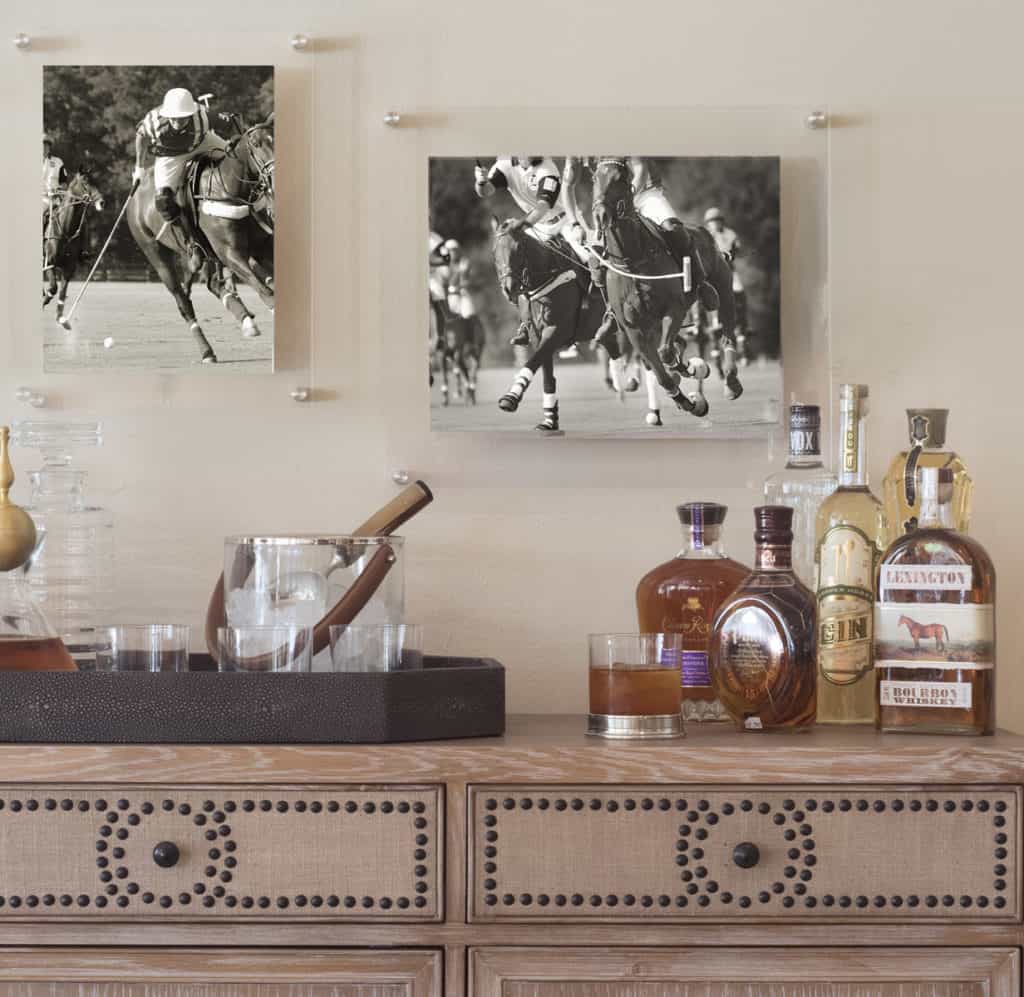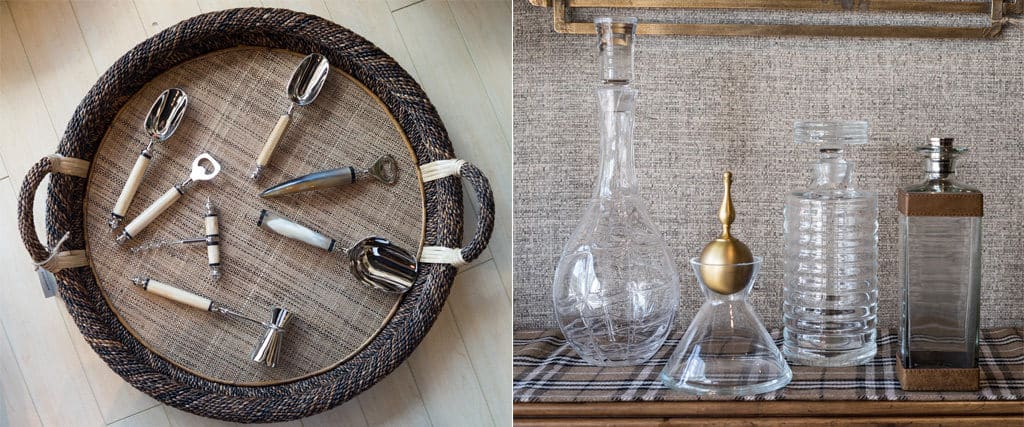 Be sure to check out the 2016-2017 New Bridge Polo & Country Club Magazine, where you can see this article (starting on page 102) and many others!
The original article was written in conjunction with Karin Jeffcoat, Cote Design.
Photography by Shelly Marshall Schmidt, Oh Schmidt Productions.