I Love This Bar (Cart)
When winter arrives, I find that people's social calendars center more around in-home soirees.  Whether you are hosting or attending, the night usually begins with drinks.  Consequently, one of the hottest furniture items that we've been specifying recently is the bar cart.  There is an incredibly array of styles, finishes, and colors.  Additionally, there are a multitude of ways to style your bar cart to not only meet your personal beverage tastes, but your aesthetic, as well.  However, there are a couple of styling rules that I like to stick to in order to make the cart both functional and visually appealing.
#1 Height – Like in this stunning bar cart vignette, I always like to include height of some sort.  Whether it's a large floral arrangement like the next photo or an amazing brass lamp like the one featured here, it really helps to draw the eye upward. and frame your libations and glassware.
#2 Special Decanters – What makes a fine bourbon taste even better?  Pouring it in your glass from a stunning decanter.  Yours may be traditional cut crystal or more modern ones like the ones featured here.  Either way, they can make a beautiful design statement and make your liquor look even lovelier.
#3 Something Living – Flowers are always a good idea.  Have you ever heard me say that before?  Including something living – flowers or a bowl of limes – adds color, texture, and a breath of fresh air to any vignette.  Not to mention, limes and lemons can be utilized in your beverages.
#4 Pretty Glasses – Whether they are your grandpa's high balls, your wedding crystal, or that perfect purchase from last week, your glassware selection not only reflects the types of drinks you are serving but also your personal style.  I love the combination of these cut glass double old fashions and the royal blue glass cordials and wine glasses.
#5 Lovely Liquor Bottles – I love how visually interesting a collection of liquor bottles are.  The colors, shapes, and sizes mingle together to create an artpiece of sorts.  This incredibly large collection featured here looks particularly rich framed by the rustic style bar cart.  If it's your favorite gin, then put its bottle on display!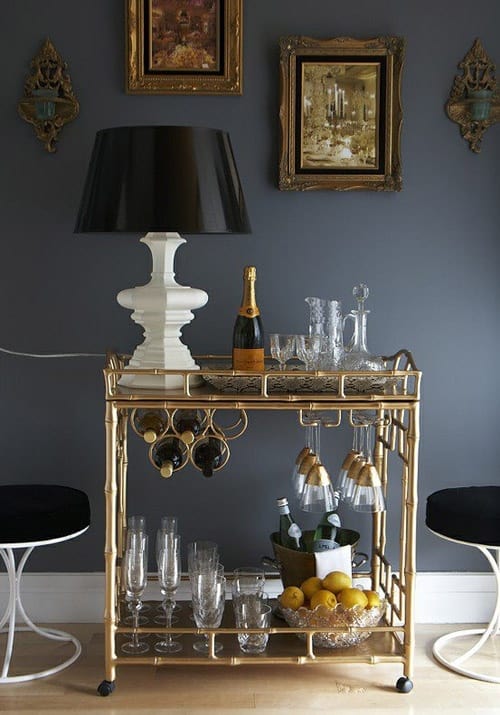 #6 Light – This cart has everything I love including a lamp!  It's important to have good lighting throughout your home including on your bar cart.  So, if your cart is hidden in the shadows, grace it with a beautiful lamp.  A functional and fabulous lamp addition helps you make sure your measurements are just right, adds height to the space, and is another opportunity for a design statement.
Like styling, choosing the bar cart that fits your design aesthetic is just as important!  Check out all of these beauties from Vanguard, Worlds Away, and Hickory Chair!  Come visit us at Nandina Home & Design to order any of these lovely selections or see what other carts are available.
See the best,
Lathem