The Top 10 Tips for Creating the Perfect Guest Room Retreat
Be Our Guest. Story by Susan Victor | Photography by Shelly Marshall Schmidt
Hosting house guests at this time of year is a fundamental part of the holidays. Does your guest room lean toward a 5-star hotel or "Budget Bed" for a night?   There are simple little things that you can do to make your guests feel not only welcome, but also actually pampered.   If you follow our top 10 design tips for creating a space with the luxury and ambiance of a high-end bed and breakfast, the only thing you will have to worry about is not if they will come, but how soon they will leave!
Here are our top 10 tips for creating the perfect guest room retreat.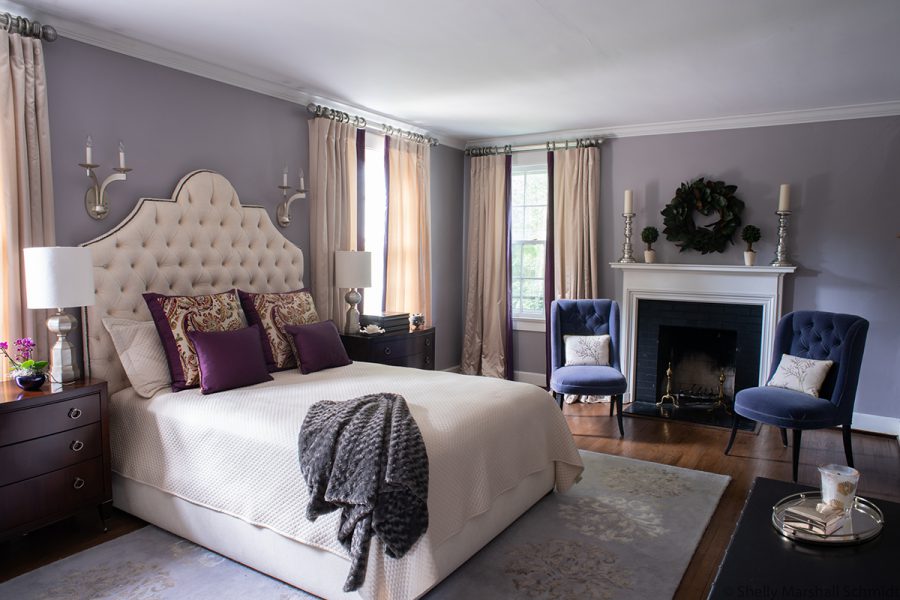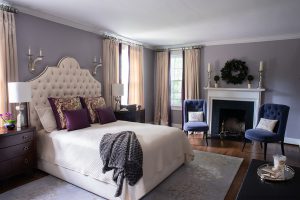 1. Make the bed the centerpiece of the room! Don't stick your 20-year-old hand-me-down mattress in the guest room and then use your worn mismatched sheets and pillowcases to dress it.   Invest in a comfortable mattress and clean, crisp sheets and bedding. Remember, comfort is king!  Provide extra blankets and pillows. Toss a throw at the end of the bed to invite your guests to consider an afternoon nap.  If you really want to evaluate the comfort of your guest room, spend a night or two in the bed and see if it passes muster.
2. Bedside tables and lamps are a must!  Having a table on both sides of the bed with good lamps is essential for couples and provides a place to stash a book or keep a cell phone.  The comfort and ambiance provided by low light to read by at bedtime can never be underestimated.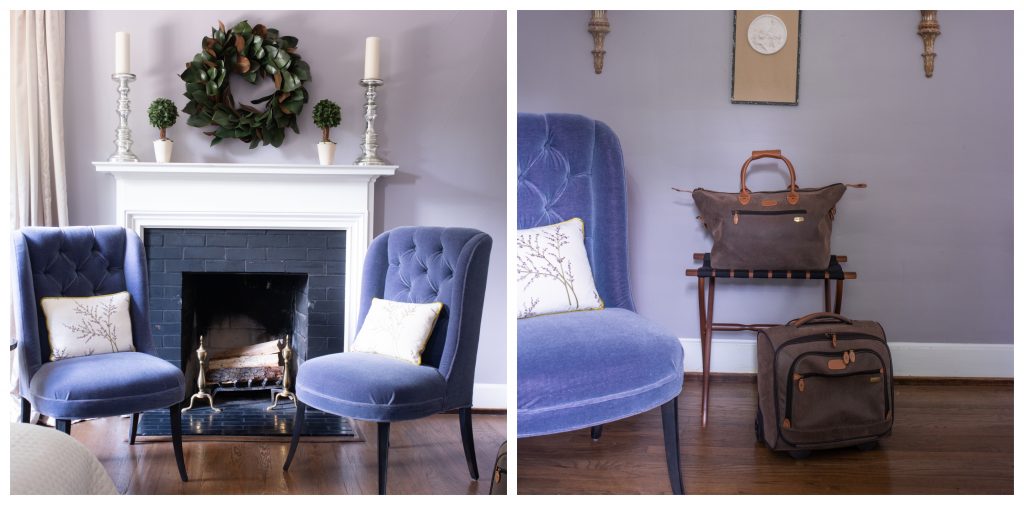 3. Don't forget a place for a suitcase.  A bench at the end of a bed, an ottoman, or better yet, a simple folding luggage rack allows your guests to keep their dusty suitcase off the floor and the bed.
4. Provide good light and privacy control at the windows. Beautiful blackout drapery at the windows is always a style statement, but even simple roller shades can shut out offensive outside lights or the bright early morning sun. An extra hour of sleep in the morning can make your guests feel like they really are on holiday.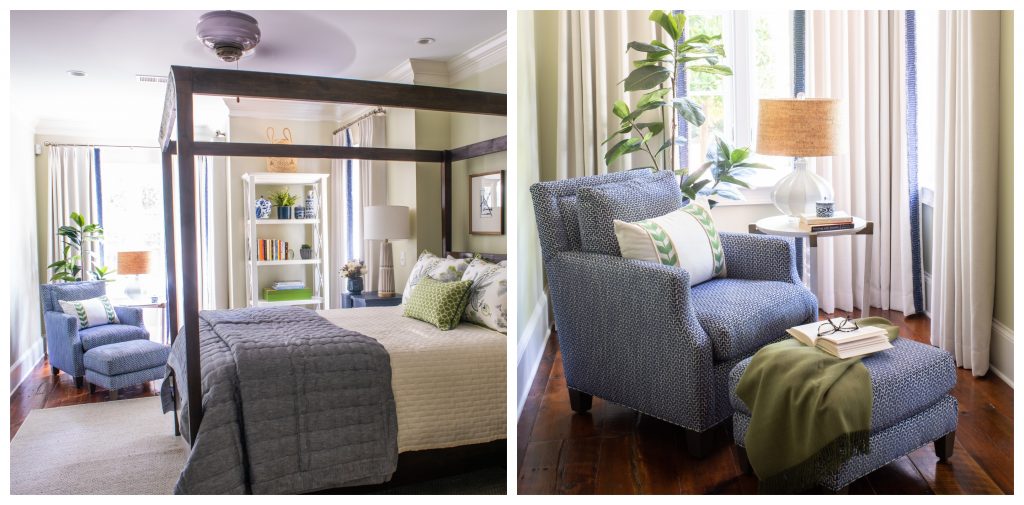 5. Make room for a place to work. Furnishing a desk or simple flat, clear surface to set up a laptop and access your wifi is a thoughtful gesture that won't go unnoticed.  In this day and age, even when we are on holiday we often still need to check emails or log into the office.  Supply pencil, paper, a lamp, and the wireless code to allow your guests to catch up with work in the privacy of their own room. While you are at it, make sure that there are special outlets or extension cords for phone and iPad or tablet charging next to the bed.  These multi-use chargers are inexpensive and available through online outlets like Amazon and Target.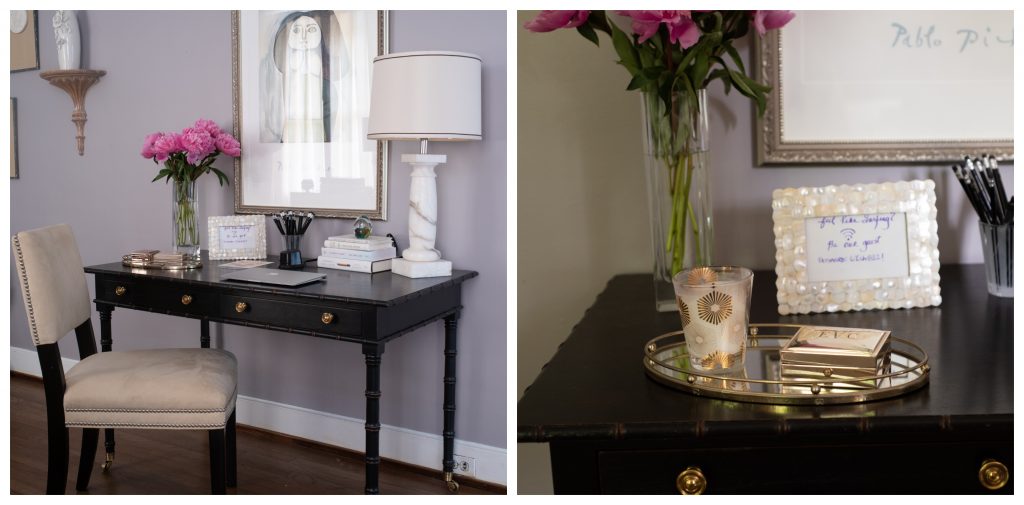 6. Make surfing simple.One of the first things a guest may need is your wireless code. Put it front and center, framed and on the desk or bedside table.  
7. Provide a good mirror.  A beautiful full–length mirror adds glamour to any bedroom, but even an inexpensive one on the back of a door is a luxury for guests who need to check a holiday outfit before joining the festivities. 
8. A well–stocked bathroom takes guest comfort to a whole new level.  While easy access to fresh towels and washcloths is a given, go a step further and supply a basket of essentials that might not have been packed, and your guests will be eternally grateful and relieved! Include toothbrushes, floss, travel-size toothpaste, deodorant, shampoo, conditioner, hand lotion, and lip balm.  If you really want to be helpful, provide Advil, a sewing kit, disposable razors, and an extra hair dryer.  
9. Set out late–night reading material. Current magazines and some of your favorite novels are always appreciated. 
10. Surprise and delight your guests. Add extra touches like fresh flowers in the room, a little tray of healthy snacks and bottled water, and a beautifully scented candle burning when they arrive.