Born and bred in the South, James Farmer is a professional garden, floral and interior designer; cook; author and lifestyle expert. In addition, James is a frequent guest in magazines as well as on television and radio. James's natural Southern grace and warm personality light up any room. A skilled and entertaining speaker, he is truly a young and fresh voice for his generation. Whether he's teaching how to plan the perfect summer picnic, using everyday items to create exquisite tabletops, creating drop-dead gorgeous flower arrangements and wreaths, or making his grandmother's skillet peach pie, Farmer masterfully guides his audience through the art of elegant garden living.
My design sensibility is what I call unapologetically southern.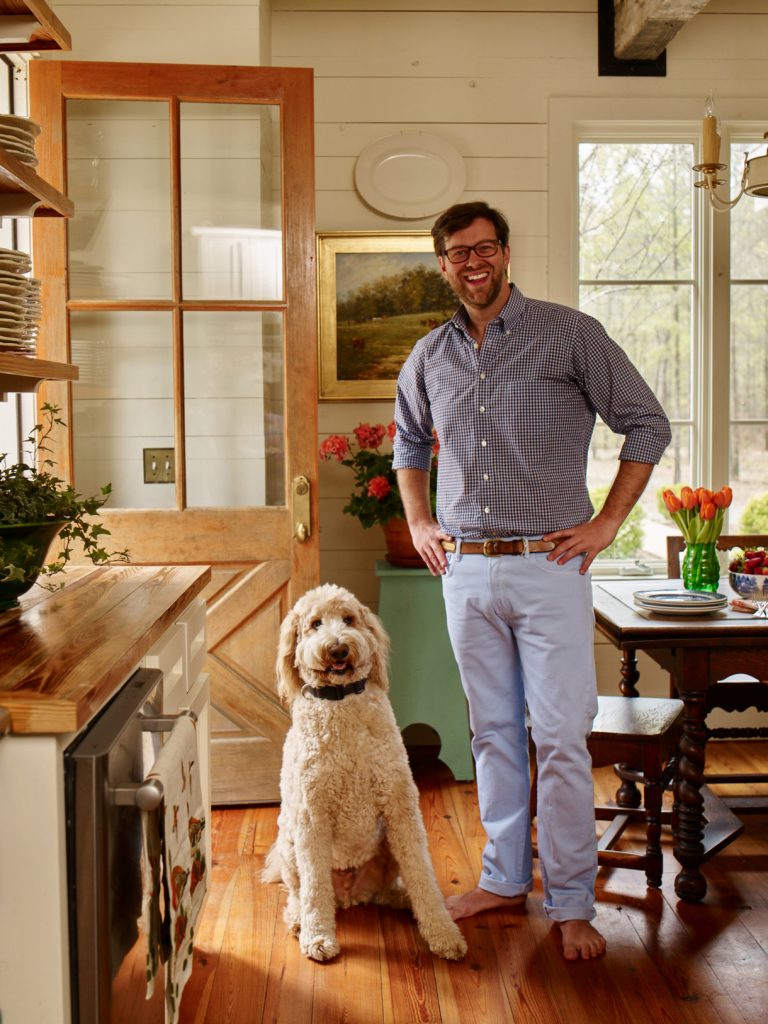 Q: It's clear that you're a very well-rounded lifestyle expert. Entertaining, cooking, writing, designing….the list goes on & on! When did you realize that you wanted to pursue this industry?
A:  As a child, I was inspired by Frank McCall and his architecture and design firm located in Moultrie, Georgia.  I knew I wanted to follow their trajectory to encompass the many facets of design and southern style.  Of course, at Auburn, I majored in art history and horticulture to give me the credentials to become a professional designer.
Q: How did growing up in the South shape your design sensibility?
A: My design sensibility is what I call "unapologetically southern."  I saw people in my community and ladies like my mother, aunt and grandmother who did not hide the fact that items were family pieces! Instead of trying to hide a southern home, they embraced and celebrated it with the style.
Q: What's your favorite place to getaway for the weekend?
A: Cashiers or 30A on the gulf! But, to be honest, parking my suburban in the driveway at Farmdale (James' home in Perry, GA) on Friday evening and not leaving until Monday morning is quite luxurious too.
Q: Congratulation on the release of your new book, "A Place to Call Home"! How do you define home?
A: Home is where you long to be.  It is the bed you cannot wait to crawl into.  It is the table you cannot wait to set.  It is the wet nose and wagging tail of your "furry" family members. I know it is cliché, but home is where the heart is.
Q: With the holiday's right around the corner, friends and family will be returning home to celebrate. What are your tips for making your home inviting for the holidays?
A: Bring the outdoors in by using greenery and flowers! This is the quickest method to usher in a festive mood. Along with seasonal produce and baked goods! No matter how fine or exquisite your house is, it does not say home until something is baking in the over and the table has fresh flowers.
Q: What are your top 3 must-haves for throwing a successful dinner party?
A: Great food! Great Flowers! And Great Folks!  The food and the flowers can be simple and seasonal but the true chemistry occurs with the right pairing and seating of the invite list.  One of my favorite dinner parties was sitting on the floor in a friend's home who did not yet have dining room furniture eating Domino's pizza and drinking wine out of solo cups. It is the attendees that make any event celebratory!
Q: It's no secret that in the South, we love dessert! What is your favorite never-fail dessert recipe?
A: Easy! Pound cake with whipped creamed and seasonal fruit.  My go-to recipe is from my book "A Time to Celebrate"…
Pammy's Pound Cake: 
-2 sticks butter, softened (aged if possible)
-2 cups sugar
-2 cups all-purpose flour
-5 eggs
Beat the butter and sugar together until fluffy. Add the flour and 1 egg at a time alternatively, beginning and ending with flour.
Add the batter to a lightly greased and floured Bundt pan.
Pammy's grandmother's note on the recipe says, "Do not wash it", for many of these old-fashioned, heavier pans would keep the "seasoning" from previous cakes.
(I always grease and flour the pan for security.)
Start in a cold oven and bake at 325 degrees F for about 1 hour, or until a toothpick comes out clean. I always start checking at 50 minutes. Just don't stomp around the kitchen or slam the oven door!