Turning an Ugly Duckling into a Swan
It's incredible how a new coat of paint can make a room feel completely different. In the same way, a new fabric can completely transform a treasured – albeit outdated – piece of upholstery.
My grandmother had some lovely pieces that her mother gave to her; she owned and operated a furniture store in Atlanta for her whole life. It would be an understatement to say that their fabrics were outdated, but it would be a mistake to say the pieces were such. My relatives thought I was a bit crazy when I lugged these pieces to my car during her most recent move, but my grandmother and I were both delighted.
After some fabric selection and a trip to the Nandina Home & Design workroom, they came back fresh, updated, and exactly what I wanted for my own personal living room!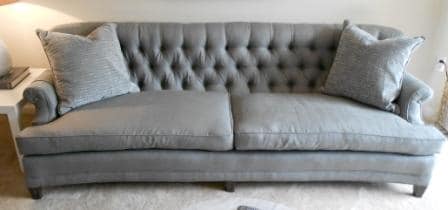 If you, too, are harboring some 'ugly ducklings', feel free to contact the design studio and workroom to select some fabric(s) and get a quote.  Give your much-loved pieces a facelift, too!