Tray Chic
As Christmas is approaching we are receiving tons of new items in the store.  One of my favorite accessories for styling and organizing is trays!  Our wonderful purchasing crew did a great job at market and we now have some great trays from our favorite companies!  A tray is a great place to keep all of those little items that tend to get lost or style a small personal vignette.
This neutral living room is traditional with a twist, the look is very clean and sophisticated.  The ottoman features a beautiful Ivory Leather Tray, styled simply it is the perfect spot to place a drink during entertaining.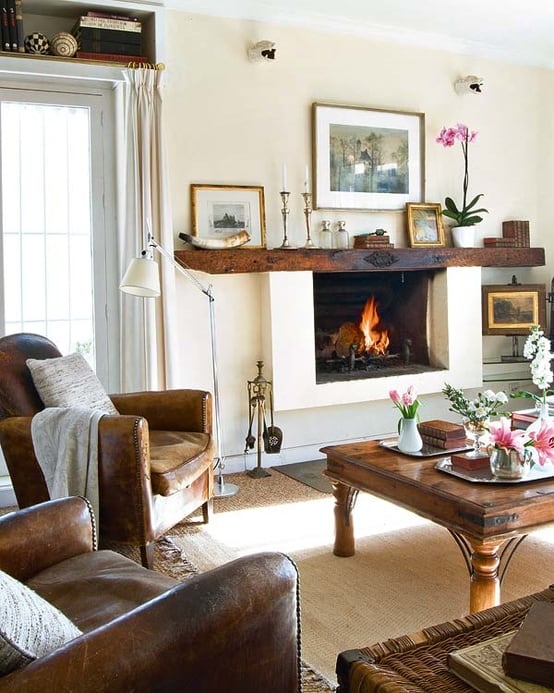 This comfortable family room has a rustic feel with subtle glamorous touches; the silver candlesticks,  gold frames and silver trays add a nice spark to an otherwise dark space.
Here we have a beautiful example of an eclectic space, although there is a lot going on it all works together wonderfully.  The designer did a great job of incorporating many textures, the sea grass trays on the ottoman are as functional as they are pleasing to the eye.
In the kitchen a simple wicker tray or basket can be the perfect piece to keep all of those cooking ingredients in reach while still looking neat;  these oils and vinegars are sure to inspire your next meal!
This simple wood tray has been transformed into a beautiful vignette filled with personal pieces.  By using photos, art and candles, this corner now has great depth and keeps the kitchen fresh!
We do not all have a built -in bar but adding a pretty silver tray to a chest is ideal for entertaining!  This set up can be temporary but is equipt with everything need for the perfect cocktail.
I love this tray arrangement for a vanity; for all of us ladies who love jewelry and scents this is the last stop before heading out the door. There is even a tiny mirror to check your reflection at the last minute!
This antique silver round tray is a great spot for perfumes, also to drop sunglasses, cell phone and keys so you always know where to find them.
A simple mirrored tray is a great way to keep all of those bottles organized in the bathroom, adding a vase and family photo is a special  touch.
Stop by Nandina Home & Design at our Aiken or Atlanta locations to check out our wonderful selection of trays. We can help you find the perfect gift for someone special or for yourself!