Travel = Interior Inspiration
My last day off, I had the joy of going on one of my  favorite fall adventures.  I got to go to the pumpkin patch!  I read about one about an hour away from Atlanta, and I just had to go.  There were hayrides, cows, apple cider, and pumpkins, oh my!  It was so much fun!  Selecting the perfect pumpkin is filled with all of the nostalgia of childhood enthusiasm, and it is a wonderful trip down memory lane each year.
This year, I had design on the mind, so I pulled together some design plans inspired by the colors, textures, and spirit of the pumpkin patch.  I hope you enjoy!
First, after all these yummy looking gourds and delicious ciders, I was inspired to work on a dining room.  This dining area embraces the rich woods of the fencing and mulch in the large farmhouse table by Dovetail and industrial chandelier.  The flat weave rug by Jaipur reflects the color and shape of the bold orange pumpkins, and the dining bench fabric helps bring in the colors and softness of the light blue sky.  I love having a mixture of seating in a dining area.  It makes the whole space feel more comfortable and relaxed, which really speaks to the spirit of a pumpkin patch.  I think I could enjoy some pumpkin pie around this table!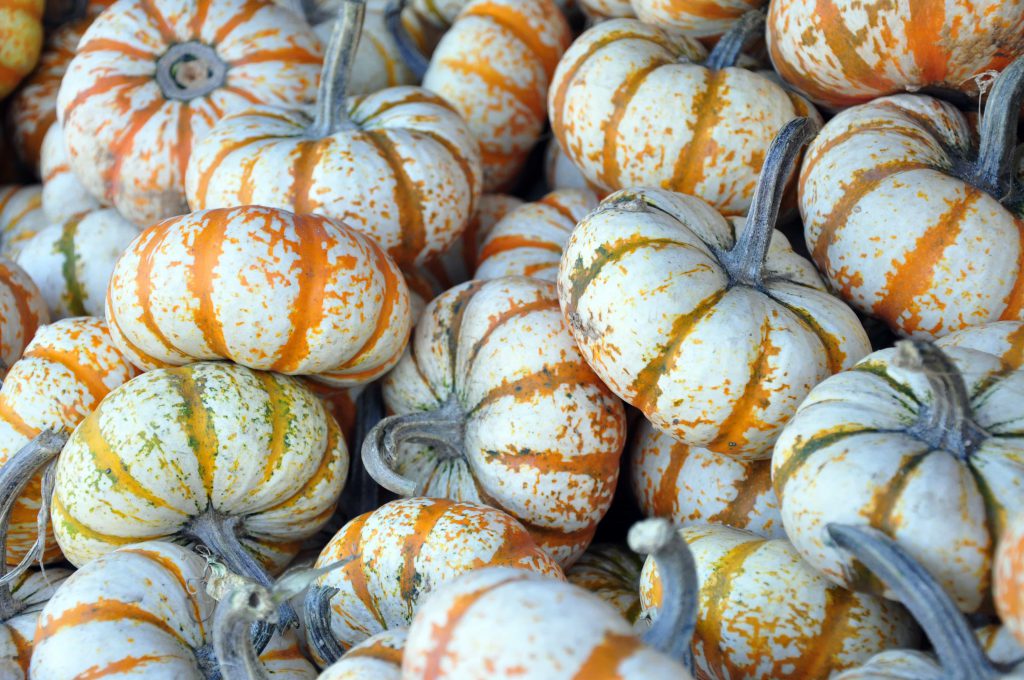 This living room was inspired by the 'pok-e-mon' pumpkins.  I love their varied color palettes; they are each so unique!  I really wanted to bring out both the oranges and the greens of these little guys in the fabrics for this space.  Schumacher, Lee Jofa, and Kravet all had fabrics that fit the bill!  Don't you love the stunning orange, grey, and green silk fabric that I think would look amazing as drapes?  It's amazing how the shapes and colors of the pumpkins are all reflected in this one fabric.  By selecting this fabric as the centerpiece, I built the rest of the room around it.  By using smaller-scaled patterns, they did not detract from the 'showstopper' fabric.  To bring in the pattern of the pumpkins, I selected these light fixtures.  They work well as an alternative to lamps over two end tables and really illustrate the ribs in the pumpkins' shapes.  The sofa by Lee is so inviting, and I adore these Hickory Chair occasional chairs with the jumbo nailhead.  Don't you want to relax here and drink some hot cider?
I couldn't take my eyes off of these green gourds!  I think I took a million photos of them!  Aren't the variations in the greens just mesmerizing?  I built the following gourd-inspired living space around the pumpkin-like chandelier by Currey and Company and Schumacher's Hot House Flower print in green.  Then, I layered in textural solids on these lovely Lee Industries upholstered pieces.  And, what screams industrial rustic more than an awesome reclaimed factory cart coffee table?  I just love them!  Then, a few bold green pillows with a funky greek key trim by Fabricut added an elegant final punch to the space.  The great part about this room having only one feature color means that decorating for particular seasons or occasions means just tossing in a few pillows in the additional color.
See?  Traveling does truly inspire interior design!  Get out and do some exploring of your own, and who knows what kind of fresh ideas you'll come up with for your home!  If you traveling includes a trip into Nandina, that is not cheating. 😉  We are always happy to be inspired and help create new spaces for you!
I hope your fall is off to a beautifully crisp beginning!  Have a safe and happy Halloween!
See the best,
Lathem