To mix or not to mix? An age-old question for your dining space.
For each of us, sharing a meal conjures up many different memories. For some, it is the cherished memory of formal gatherings in your grandparent's home. For others, it may be the picnic table on the porch, catching a cool breeze on a warm summer evening. Regardless of your perfect location, the dining table and chairs, along with good food and friends, provide the cornerstone of that experience.
One question that I am frequently asked is, "Should I mix up my chairs, or keep them all the same?"
Here are two stunning traditional spaces, both inviting and well-styled. Yet to me, they evoke two very different feelings. The mismatched chairs relax the atmosphere as if to say, "Anyone can gather at this table for a meal…come on in!"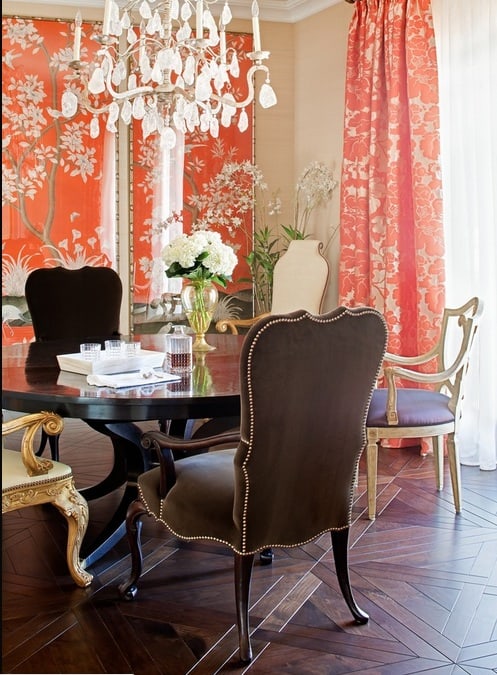 Contemporary spaces crave simplicity and tranquility in their design. They are most suited to one continuous chair style to keep the sight lines streamlined.
It's easy to mix chairs in casual spaces, where an "anything goes" attitude reigns. Paint a mix of chairs all one color, but keep the seat upholstery the same for a playful, but cohesive look.
Benches and banquettes are a great way to vary the seating, allowing flexibility in seating for larger groups.  Why would you ever want to leave this comfy table?
Let's not forget the great outdoors. Here, the collected look of these chairs makes the event seem spontaneous.
While painting  old chairs all the same color makes the furniture fade to the background and the surroundings take center stage.
Wherever your tastes lie, traditional, contemporary, eclectic or shabby chic, when it comes to dining chairs, take a jump outside your comfort zone and mix it up!
All photos courtesy of Houzz.com