The Beauty of Four Hands
Four Hands began in 1991 when founder Bret Hatton went on a journey from China to Europe, following the ancient Silk Trade route.  By the end of the trip he had an entire container of antiques and architectural salvage which he took to England and sold in a retail shop.  Five years later he risked everything by opening an import business in Texas.  Four Hands is now an industry leader in new production furniture and accessories.  The company has factories in China and India and offices all over the world.  We love Four Hands for many reasons; the line includes many different styles that can be placed in a modern industrial loft or a traditional family home.
This is the Julie Bar Bench (also available in leather), we had custom pillows made to match a chair also in the room.  The color scheme of this lake house was mostly neutral, grey and yellow with a little bit of glamour so this bench was the perfect addition to the kitchen!
Here we have the Magnolia table, which is available in a number of finishes and sizes.  In this home we had a custom banquet made to create a cozy breakfast nook.  The home owner wanted to combine a few different woods and this table worked beautifully with the grey washed chairs and black wood work on the banquet.
This dining room features the Zhang sideboard as well as the Stella side chair.  The sideboard is a distressed black finish with a marble top, although the piece has an Asian flair it fits perfectly in the transitional/somewhat traditional home.  The chairs come from the factory with a natural linen fabric but we had it reupholstered with this beautiful floral and teal linen that gave the chairs a brand new personality!
In this industrial loft the home owners wanted a separate dining space in this large room, we used the Grace dining chair and simply replaced the back panel of fabric for some color. The Naples sideboard against the back wall gave a great change in texture and added storage!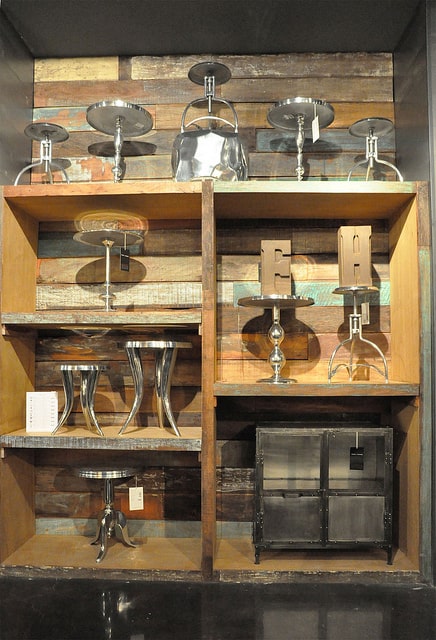 These are a few tables for the Marlow collection, in addition to the many different styles of the side tables; they are also available in a number of finishes.  This display from the Four Hands showroom in Highpoint, North Carolina shows many of the tables together again a rough wood backdrop, great inspiration for an industrial look!
Personally Four Hands is one of my favorite companies, I love the unique look of the furniture and ever changing design.  At Nandina we strive for a collected look in our designs and Four Hands helps us accomplish that with great ease.  It is rare that we do a design project that does not include at least one Four Hands piece!