Pink. It's My New Obsession.
Happy Valentine's Day everyone!  This holiday of love always gets me thinking pink!  Pink has a lot of personality associated with it, but you don't have to turn your home into a grown up girl's playhouse.  Pink can be applied in a sophisticated fashion as well as in fresh and unique ways.   I found some of my all time favorite pink rooms to give you some inspiration for including this lovely color in your home's palette.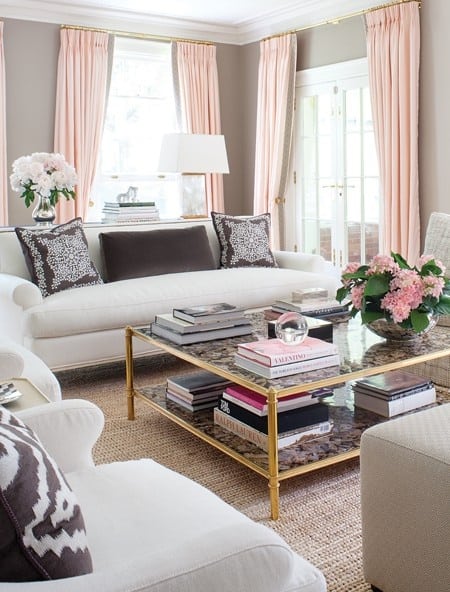 I absolutely adore this room.  The neutral upholstery, paint, and area rug offer a beautiful base for any color.  And in this case, the gorgeous custom pale pink draperies add a stunning feminine punch.  I also appreciate that they styled in a few pink books and florals to layer the space with the color!
Wow!  Is this every girl's dream room, or what?  I like that the designer toned down the bold fuchsia pink with  grounding, rich navy elements.  It gives great balance to the space and lets pink be the star without being overwhelming.
Talk about over the top pink!  Architectural Digest featured Champion Platt's own home in a recent issue, and I couldn't help but gasp when I turned the page!  Wow!  What a bold statement this room makes!  The magenta and orange play well with each other, and the simple, white upholstery and walls give the eyes space to rest.
This room has such a calming effect with a little punch.  I really like the collection of bright pillows being the focal point of this otherwise neutral living room.  Our Custom Workroom here at Nandina Home & Design makes boatloads of pillows for our clients each week, and this is a perfect example of why we utilize such punchy, custom pillows.  They truly make a design!
This beautifully eclectic space was featured on the Savvy Home Blog, and I was immediately struck!  She always has loads of inspiration of all kinds on her blog – fashion and interiors alike!  What an awesome pink loveseat!  I love the mix of traditional lines with modern artwork and graphic pattern.  And, I can't help but swoon over those  found architectural elements on the bottom of the coffee table.
This stunning home  was featured in Southern Living Magazine a couple of years ago, and I still smile every time I see it!  I really like how they included bold pinks in the accents but kept the rest of the room neutral or aqua. The Quadrille Fabrics draperies make this room!
This is one of my favorite bedrooms of all time.  Similar to Champion Platt's living room in color selection, this bold bedroom offers unexpected pizazz to cottage architecture.  I always enjoy blending styles to give a space a collected and unique look.  The traditionally tufted headboard in a bright persimmon under a modern abstract painting is a perfect example!  Pine Cone Hill bedding is also one of my favorite bedding lines that we carry, and here is yet another reason why!
Better Homes & Gardens featured this space a while ago, and I still can't get enough of it.  Once again, the orange and pink make an appearance together in a fresh, white space.  It's simple and breathtaking.
If you are hesitant to try pink, here is an excellent example of how you can give it a whirl!  Amy Howard took an otherwise quite masculine room in navy and neutrals and added a single book and floral arrangement.  What an impact it makes!  The room gains another whole level of depth.  I think I may go try this in my own blue living room.
I hope your Valentine's day is full of happiness!  If you would like some help bringing a little pink (or another feature color) into your life, please come visit us at Nandina Home & Design, and one of us cheerful designers will be happy to help!
See the best,
Lathem