Oscar-Worthy Rooms
Interior design and fashion often follow and mirror one another. You may see a look on the runway at New York Fashion week and see the same print reinterpreted on throw pillows or draperies the following year.
When someone struggles to describe his/her style to us as designers, we often look to his/her closet to help us figure out whether they are traditional, modern, classic, transitional, etc. Lines, prints, patterns, and colors that you repeat in your wardrobe are often ones you'd like versions of in your home. As I watched the Oscar's red carpet this year, I couldn't help but let my mind wander to some of my favorite spaces.
Obviously one of the big winners of the night was Lupita Nyong'o. She not only shone in her stunning and elegant pale blue number, but she took home a golden Oscar to boot. When I saw her standing on stage amidst all the gold, I was reminded of one of my favorite kitchens of all time as well as several other spaces.
This kitchen was featured in House Beautiful last year, and it was all I could do not to immediately yank my cabinets off the wall and paint them this stunning minty green/pale blue. I'm still contemplating doing it and hauling in a hand hewn antique table, too!
Both of these living spaces have such lovely cool blues accented with warm gold  accents. Balancing color temperature is really important, and these rooms do a fantastic job.
Jessica Biel, Jennifer Lawrence, and Amy Adams wore some of my favorite dresses of the night. The color, drape, and structure of each were magnificent. I have to say that I loved each of these dresses individually, but together, they are even more fabulous! They make one of my favorite color combinations in design of late.
I love the crisp contrast of coral and blue. Each of these is simultaneously fresh and cozy.
For the fellas, Jared Leto definitely wins "Best Dressed" in my book! How sharp is that white dinner jacket and garnet bowtie?
This room is as elegant as a tuxedo, and the unexpected surprise of a peek of garnet just puts the cherry on top!
I especially love this dining area designed by our own Nandina Home & Design designer, John Ismael! The modern art inspired space is so chic.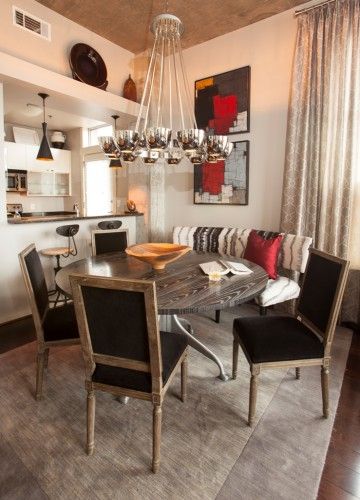 A big nominee of the night was the amazing June Squibb. She rocked the runway in this shimmering emerald number.
If her dress was to become a room, it would be this one. Cameron Diaz's Manhattan apartment hosts these unbelievable green cabinets! The gold backsplash is to die for! Aren't they sensational?
This dazzling emerald living space also coordinates beautifully with her dress. I love how bold the walls are and how graphic and fresh the whole space feels.
I hope your Oscar night was wonderful. If you want to transform your space into an Oscar-worthy room, just stop on into Atlanta or Aiken and talk to one of our designers. We'll be happy to help! See you soon!