Mountain Style – Cashiers, North Carolina
An area blessed with abundant beauty, breathtaking falls, gorgeous home sites, world-class golf, lakes-as-clear-as-the-sky and exceptional outdoor life – Cashiers, North Carolina is an oasis in the South.  Many Southerners escape the summer heat by retreating to this magnificent mountain town, but the best time of year to visit is the fall.  Crisp mountain air mixed with shades of yellow, orange and red – the month of October is BRILLIANT in Cashiers!
From the time I was a little girl, my family vacationed here.  Now my parents call Cashiers home, so my children are enjoying the same wilderness adventures that I once did.  Below are a few of my favorite places, designers and rooms from the Cashiers Show House 2010 which exemplify what Cashiers — And Southern Mountain Style – mean to me.
 Triple Falls – Image by Chris Sanfino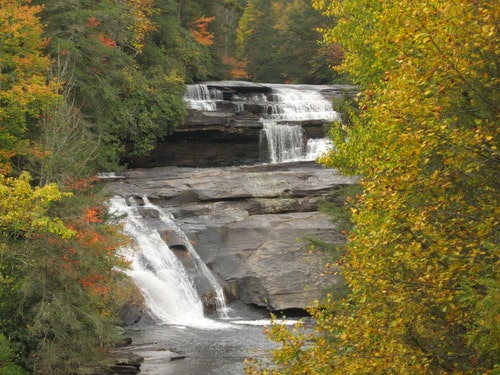 Trillium Mountain Club – this impressive structure of natural wood pillars and stone exemplifies BIG mountain style! Trillium is dear to me as it is where I married my wonderful husband and where my parents live today.
This super-stylish terrace designed by Edwin Lusk and David Paterson outlooks to Whiteside Mountain; one of Cashiers cherished peaks and the real focal point of the space.
Bringing the outdoors in… Designed by Ann Sherrill, this living porch is taken to new heights with the delightful chandelier, artwork and drapes.
Library designed by Cheryl Benitez and Audrey Wood – I can definitely see afternoon tea and a good book in this space on a rainy day.
Quiet and cozy, this space designed by Lynn Monday makes a bold statement with the nail head pattern on the walls and the antlers on the mirror- Divine!
Old
Edwards Inn and Spa – Highlands, NC
This historic hotel has old-world charm and a sumptuous spa!  It is 15 minutes from Cashiers.
I hope you visit Cashiers soon!  It is worth the drive…
All the best,
Erin