Mother's Day Gift Inspiration
With Mother's Day rapidly approaching, we thought it would be fun to share some inspiration for gift ideas for those of you who haven't made your purchases yet. One of the best things about the time of year in which Mother's Day falls is that it is a perfect opportunity pick up a little something that will add some bright color or sparkle to your mom's wardrobe, right in time for summer! Below are a few fabulously stylish ideas from the wonderful Calypso St. Barth collection.
This gorgeous gold linked washer necklace would go with a casual sundress or an elegant cocktail dress. What could be better than a piece of jewelry that will go with most anything?!?!
A lovely handwoven straw tote always makes for a fashionable and practical accessory that perfect for carrying beach towels, sunscreen, a book, and a bottle of water down to the beach or to the pool.
The Julianna Mother of Pearl clutch is simply divine!
Scarves are no longer just an accessory for fall and winter wardrobes. This luxurious scarf has just the right amount of shimmer and shine to make an ordinary outfit look extraordinary.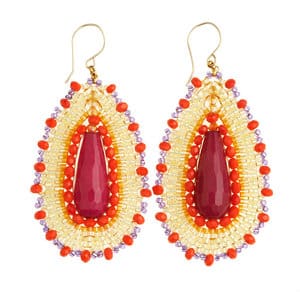 These jade drop earrings would add a great pop of color to a summer ensemble.
These are just a few of our favorite Mother's Day gift ideas. If you've got a favorite Mother's Day gift idea, please share it with us! We would love to hear from you!
Happy Mother's Day to all moms from Nandina Home & Design!