Meet the Nandina Team – Lathem Jenkins Gordon
A few weeks ago, we began our "Meet the Nandina Team" series and introduced you to Susan Victor, an owner of Nandina Home & Design and director of marketing and project management. Today, we'd like to introduce you to one of our Nandina Atlanta team members, Lathem Jenkins Gordon.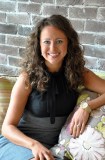 Lathem Jenkins Gordon, Allied ASID, Associate IIDA came to design with a diverse background.
Post-college she spent a few years working in higher education, graphic design, and delving into politics. Finally she realized that what she loved most about these jobs were two things – design and people; what career is better suited than interior design?
After earning her MFA in Interior Design at SCAD and a certificate from Education First International Spanish Language Program in Barcelona, she dove into the Interior Design field.
She loves building relationships with clients and creating living and working spaces that meet their needs as well as reflect their character and aesthetic.
Here are a few fun facts about Lathem:
Favorite Color: Royal Blue
Favorite Thing To Do: Travel – What better way to get inspired than to experience and see new textures, colors, cultures, and languages?!
Alternate Creative Outlet: Photography – I majored in photography in college, and I love capturing images of places and faces. I really love to dance, though, too!
Favorite Food: Dessert!  Cake or Chocolate!  Yum!
People Would be Surprised to Know: That I get really irritable when I don't exercise. Yes, I know this seems to be in direct contradiction to the previous answer. I like to run, because I really, really like dessert.
Below are a few links to posts that showcase Lathem's work, inspiring ideas, and design expertise:
Lathem's Latest Obsession – Large Scale Artwork
Christmas at Callanwolde Designer Showcase
Lathem's Favorite Rooms from PinterestTurning an Ugly Duckling into a Swan
We'll have more posts from Lathem, as well as the rest of the Nandina team, in the near future so stay tuned for more! Don't forget that you can subscribe to our blog and receive our post updates in your inbox – simply register your email address with us in the subscription box on the right hand side of the page.