Makeover Monday : shabby dresser gets a second chance
We hope that you all read our recent blog post about the project we worked on through Dwell with Dignity. We loved the opportunity to redesign the home of a local family in need. In this project, we were able to take a few donated casegoods and breathe new life into them through some sanding, paint, and sweat by volunteer Dena Stormer. Our favorite among these projects was a plain white dresser that we added fun, candy colored stripes to for the kids room. The kids adored it, and it added a lot of color and pattern to the space. Designer Chanel Katic came up with the idea, and it really became the focal point of this happy kid's area.
Before:
The white paint job was very scuffed and scratched, and the white color wasn't very inspiring. This dresser had been generously donated, but it had definitely seen better days!
After: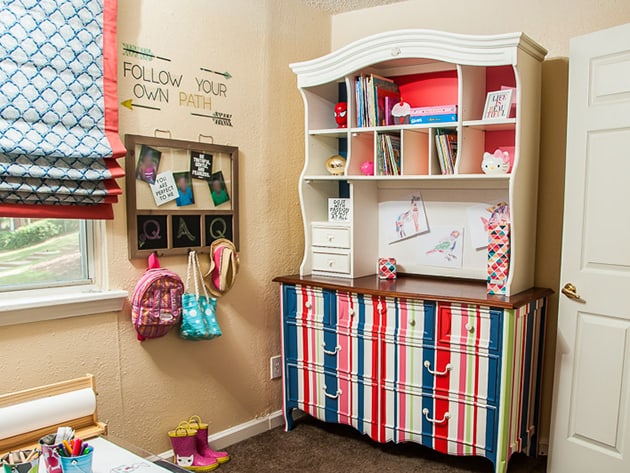 The stripes were painstakingly taped off and painted, and bright colors were added to the back of the shelves to make the new accessories pop. We put cork board on to bottom portion of the hutch, so that the children could pin up the art they created at their new art station. We loved watching this fun little project come together! We hope it inspires you to be bold with color!