Make Your Bed Like a Designer
Did you know that there's a right way and a wrong way to make your bed? Surprisingly (or perhaps not surprisingly) many people don't know the "correct" way to make up a bed. If you want your bedroom to emulate a high-end, designer look, simply pulling the covers up over your sleeping pillows just won't do. Of course there are tons of different ways to make your bed, so we've picked our top three favorite examples for you!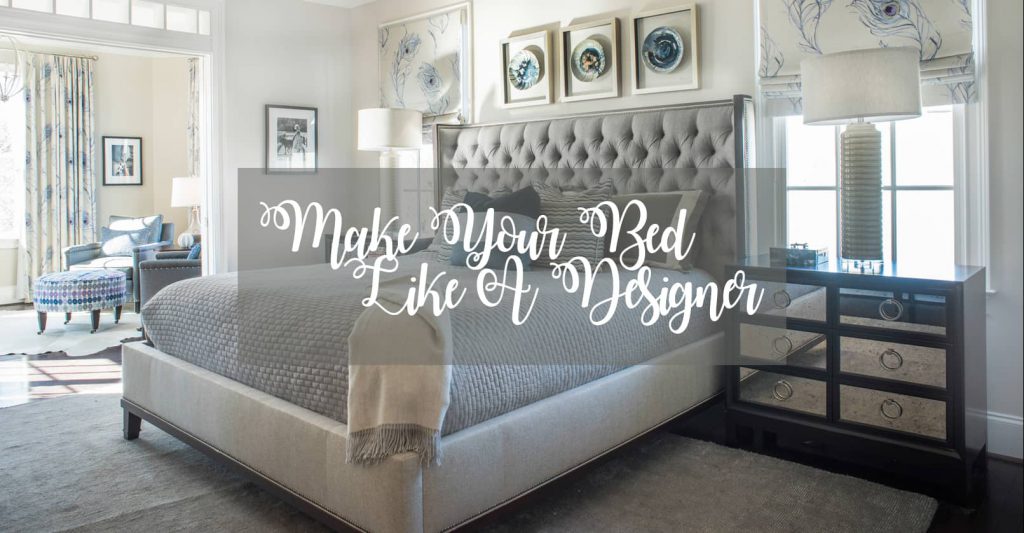 Follow our guidelines and tips below to get your bed looking magazine-worthy:
First, remove all the extra "fluff" from your bed… pillows, duvet, etc. This gives you a fresh canvas to start!
Pull the flat sheet up to the very top of your bed and smooth. We like to tuck this sheet into the bed frame to create a clean look.
Coverlet/quilt over the whole body of the bed – tucked in at the sides if the bed has a bed skirt or footboard.
Place your sleeping pillows against the headboard…these will be hidden behind the decorative pillows. Never tuck your pillows into the sheets or other bedding.
Prop your decorative pillows up on your bed, looking happy, poufy, & cheerful! Don't lay the pillows down, as this creates a flat look…which we don't want!
There are many pillow combinations and options, but less is more – simplicity is key.
Duvet is folded at the foot of the bed.
Sometimes we do blankets or "bed scarves" at the bottom of a bed if a duvet is not wanted or needed.
Check out our three examples for how to make your bed like a designer:
If you have a Queen bed:
Place 2 Euro shams in front of  your sleeping pillows.
Add a decorative lumbar, or smaller pillow in the front!
If you have a King Bed:
Because of the larger width of a king bed, we have two popular options for styling the pillows…
Place 3 Euro shams or 2 Dutch Euros, and then 2 standard shams in front of those.
Add a decorative lumbar pillow, or smaller pillow, in front.
All of the gorgeous renderings above were created by our Design Assistant, BethAnn Connor.
Keep in mind that these are just guidelines for making your bed…additional variations are always an option!
We hope you enjoyed learning how to make your bed like a designer. Feel free to leave us a comment or question below.