It's Hip To Be Square!
When it comes to dining, I am a fan of sitting at the table!  I enjoy holidays because I love being cozy around the table with friends and family.  There are many theories about the functionality of different table shapes however I believe that round and square are the best for conversation.  Here I will focus on large square tables, as they are less common and deserve some recognition!
This table is set for a grand dinner!  There is space enough for twelve to sit and in the center there is plenty of room for sustenance and decor.  The large tray of figs and the candelabra are the perfect choice to give some interest without blocking anyone's view.
Although this dining space is somewhat traditional, I love the feel of the space (it is blue after all!).  The large painted hutch makes a charming backdrop for the rustic table and feminine chairs while the bench is ideal for versatile seating.
Another lovely rustic table, this time in a neutral setting, the grey and natural wood are a sublime combination.  Every detail was considered in the space, from the grey washed cabinets in the adjacent kitchen to the matching chandeliers and the magnificent wall of windows!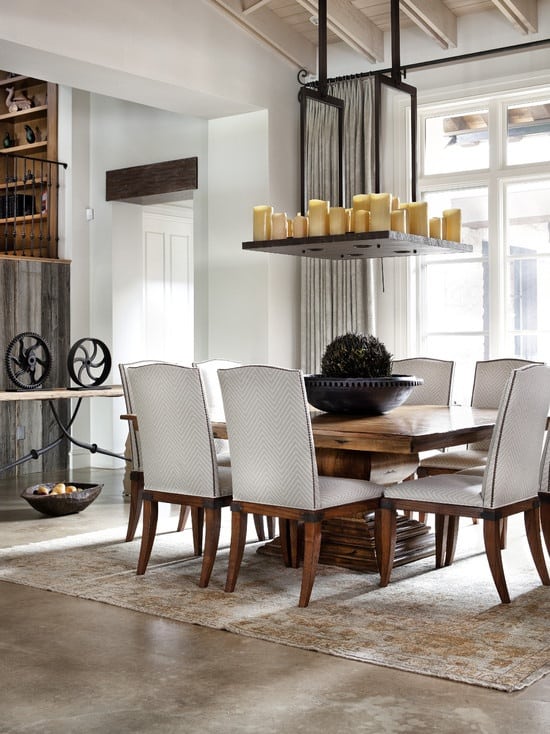 I am a huge fan of pedestal tables for not only the aesthetics but also the functionality, this would be perfect for playing games and socializing.  The space is an interesting mix of industrial and transitional, each piece has its own personality!
So pleased to find this gorgeous image of a square dining table outside!  This large table can seat sixteen and the hanging candlelit chandelier sets the mood.  I am sure this took a lot of work to put the together but the result was certainly worth it!
This exquisite table is from our very own Hickory Chair; as all of their pieces are it is available is a number of finishes and dining or pub height.  The possibilities are endless!
The table on the left is from Caracole and is a mix of black and natural elm, named "Four Play" it can be used a used as a game table or small dining table.  The second is a large dining table from Four Hands that could easily seat eight, it is made of Catalpa wood and has a handsome weathered zinc top.
Square tables are a fun alternative to round or rectangle and are great for conversation and socializing.  Nandina Home & Design can help you with your next dinner party by finding the perfect table!