Is this burning an eternal flame?
We all love candles, scent is the best way to relax and escape to an exotic world.  At Nandina Home & Design we have a great love for KOBO Candles, these soy candles have a depth and variety of scents that no other company can compare to!  I have taken some of our favorite fragrances and matched them with what I believe their ideal setting to be, let the journey begin!
White Birch Rosemary is a great scent for winter with it's a medley of cedar, birch, sage and rosemary. This seems to be the perfect interior to curl up with a book and get cozy under a blanket.  The grey palette is relaxing with a variety of textures and found treasures to get the imagination going.
Portuguese Olive Blossom is one a my personal favorite candles in the line; the smell takes me to an olive farm in the Italian countryside!  I would love a rich dinner in a setting such as this, the white tablecloth, wine and rustic surroundings seem to be the perfect match for this intoxicating scent which combines hyacinth, eucalyptus, olive and lavender!
Leather Mahogany has been nicknamed the "Handsome Man" candle and it is certainly our most popular.  Anyone who has ever smelled it would agree, you are instantly taken to a dark library with rich leather where one would enjoy a nice glass of bourbon.  Leather fused with armoise,  said to calm the nerves, and cardamom, a member of the ginger family, is an unbeatable combination.
Artemisian Lemongrass seems to be the perfect fragrance for this refreshing dining room, the lemon yellow valance in the next room, the grass rug and chest are simply delightful.  This candle marries lemongrass and sage with a touch of lavender and a peppery thyme finish.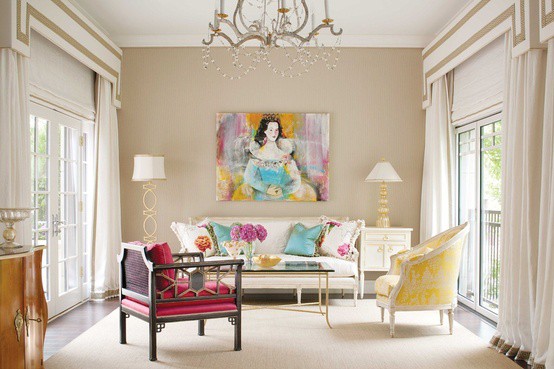 Zapote gets its sweetness from passion fruit and strawberry with soft undertones of echinacea, a member of the daisy family that we all know for it medicinal uses.  This is the perfect kitchen and summer scent, the freshness and color of this sitting area remind me of Zapote!
Moon Wisteria is a mix of honeysuckle, wisteria and jasmine, perfect for a summer night!  This outdoor entertaining area is what I see for this scent, a comfortable place to spend time with family and friends under the lighted trellis.
Opoponax Amber has a woody-floral aroma with hints of sandalwood, violet, patchouli, jasmine, rose, and a balsamic vanilla.  This mellow bedroom seems to be the perfect representation of this candle.  I love the use of gold, yellow and cream on the luscious bed and chaise.
If you have not experienced KOBO Candles, please stop by and we can help you choose your perfect scent.  Your next vacation is closer than you think!