I See a Little Silhouette of a Man
One of my favorite current interior trends is the use of silhouettes.  Not only are people using them in the traditional way like this gallery wall below, but designers, DIYers, and homeowners are all discovering new ways to create and/or display those that matter most to them!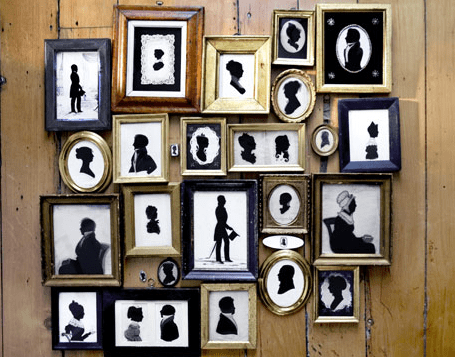 We reinterpreted this same gallery wall idea for our room design at Christmas at Callanwolde.  We featured our Nandina Atlanta team's silhouettes alongside some seasonal friends for a whimsical punch!
I've also enjoyed seeing all of the unusual ways that silhouettes have been integrated outside of artwork: pillows, stockings, and draperies oh my!  I love this idea of customizing stockings to feature your family's faces.
I have especially loved the use of silhouettes on pillows!  Tobi Fairley has some wonderful ones available!  I adore these Apollo ones that she currently has.  She also has Venus and Saint Nick versions!  How precious would Santa be for the holidays?
Not only are silhouettes appearing in many new places, but they aren't just for people anymore.  I found these amazing dog pillows at Restoration Hardware!  Aren't they just precious?  You can get them there or use this wonderful blog to help you DIY your own furry friends.
I actually just had Nandina's Custom Workroom create some critter pillows for my own home!  My husband and I have a great love for all things Scottish, and I was craving some pillows that paid homage to one of my favorite old homes.  I appliquéd these furry rampant lions onto navy linen, and the workroom made them into gorgeous lumbar pillows that I enjoy staring at every day!
Another creature has found itself silhouetted!  This moose is a fabulous alternative for a dear head hanging on the wall year-round or a seasonal piece that makes its appearance as part of your winter decor.
I've also seen some state pride represented in silhouette form.  Check out these awesome pillows that I found on Etsy!  They do custom work, so you can have your own state created!
May these silhouettes inspire you in your own home, and please let us know if Nandina can help you in any of your plans.  I hope you have a fabulous holiday season surrounded by friends and family!
See the best,
Lathem