Designing a Room for the Ever Changing Kid
After celebrating my daughter's third birthday last weekend, I realize that time has flown by so quickly! If the past three years is any indication of how fast the next years will go, she'll be 16 in no time! It makes me start thinking about her bedroom, a room that's filled with toys, stuffed animals and lots of pink. The problem is that when we think about decorating our homes, a child's room is often on the bottom of our to do list. Designing a child's room is tricky business, one minute they love purple and hearts and the next minute they are in to pink tie dyed.   As designers we need not comprimise great design when creating a small child's bedroom.  The challange is to  create a space that allows a kid to sleep, play and relax and also has a style factor that grows up with them.
This is definitely a bedroom that will grow up with a young girl. The first key is to start with a great bed such as this tall upholstered fabric bed in teal that has tufting on the headboard and polished nickel nailheads along the sides. Using a sophisticated bed along with great fabrics in fun colors creates a youthful room yet is appealing to anyone of a any age.
Kid's will always have tons of books and what better way to display them than built-in bookshelves. Having the bookshelves flank the bed creating a "nook" feeling makes this bedroom feel cozy. A rug with a bold fun pattern will excite young imaginative minds!
Pink goes hand in hand with little girls but what about older girls that still like pink? Add a little black or chocolate brown into the mix. Changing out the bed for this dark headboard and adding a black leading edge to the pink drape just made this room grow up ten years.
Artwork in a kid's bedroom is a huge factor. In this room, antique tennis racquets hung on a rope against the wood panel wall acts as artwork. Not only does it look awesome, it's a great way to display items of a sport or hobby that interest your child. Artwork also doesn't have to be pricey. Here we have an upholstered panel in a fun fabric that can easily change when your child gets tired of it. Fun and practical!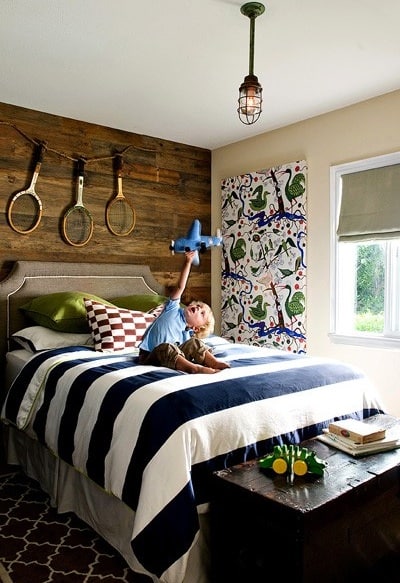 We don't have to sacrifice great design when putting together a child's bedroom. Just find the right pieces that not only are appealing to your kids but also to you. Mixing youthful options with mature stylish options witll create a room that grows up right along with your little one!.