Chesterfield Is King
The Chesterfield sofa is believed to have been named after and possibly thought of by the 4th Earl of Chesterfield, Philip Stanhope,  in the 18th century.  This quilted deep back piece is known for comfort and is synonymous with English gentleman's smoking rooms.  It is a classic status symbol and I believe them to be beautiful so for your viewing pleasure I have selected a few of my favorites, some classic and some a little funky.
Typically this is what we envision when one thinks of the classic Chesterfield sofa.  This beautiful mahogany leather piece is from one of our favorite companies, Four Hands.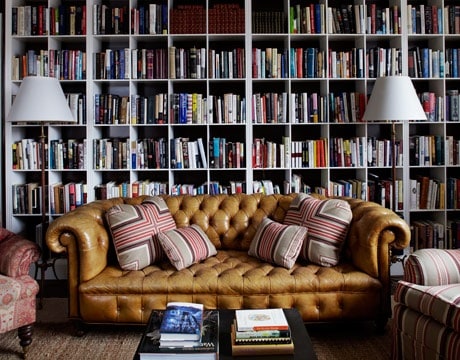 This is my favorite Chesterfield image not only for the stunning leather that looks buttery soft but also for the wonderful backdrop of books!
I love this room!  This white sofa is flawless in this black and white setting, the art shines on the neutral wall and the huge mirror enforces the drama of the space.
 A bold sofa in a bold space, the blue of the wall and the stunning red bring the painting to life!
This brilliant blue sofa is Ralph Lauren Home for Neiman Marcus.  The contrast of the nail head really pops on this version of the Chesterfield.
Not quite your traditional Chesterfield but the soft lavender gives the piece a feminine touch and works perfectly in this subtle space.
Everyone knows I love velvet and emerald green is an excellent choice for this sofa.  The contrast pillows work perfectly with the rug.
Many of our companies sell Chesterfield sofas, we have the classic from Four Hands as well as frames from Hickory Chair and Lee Industries that are completely customizable.  If you think you need some British elegance in you life stop by and Nandina Home & Design can help you  find your perfect match!