Changing Waters: John Ishmael featured in Simply Buckhead!
Fortune has smiled upon me when it comes to having great clients that often become friends.  But, when I was hired by Julie and Dan Waters, I really hit the client jackpot.  From the very beginning we were all working from the same script when it came to redesigning their newly purchased Buckhead condominium.  My love of painting and creating art has definetly shaped my design ascthetic, so when Julie and Dan wanted a home that showcased their incredible art collection I knew that we were going to be a  good fit.  They had traded in a suburban 5,000 square foot home for a sleek new urban lifestyle.  They were ready to embrace pared down polished interiors that also reflected their desire for a relaxed comfortable lifestyle.  See the full article in the November/December issue of Simply Buckhead.
Below is a feature art wall that was achieved by applying a woven wood wall covering and then nailing gold leafed metal bowls to it.    This 3-d application of art adds a layer of texture to the overall design.
The neutral grey pallet works as a perfect backdrop for the art – allowing the art to take front and center.  Mixing textures and patterns keeps the monochromatic color scheme from feeling flat and adds warmth to the interiors.  The couple's existing  grey leather sofa and daybed was the starting point for the design and were complimented by the addition of a pair of modern high back Lee Industry chairs and a glass top coffee table.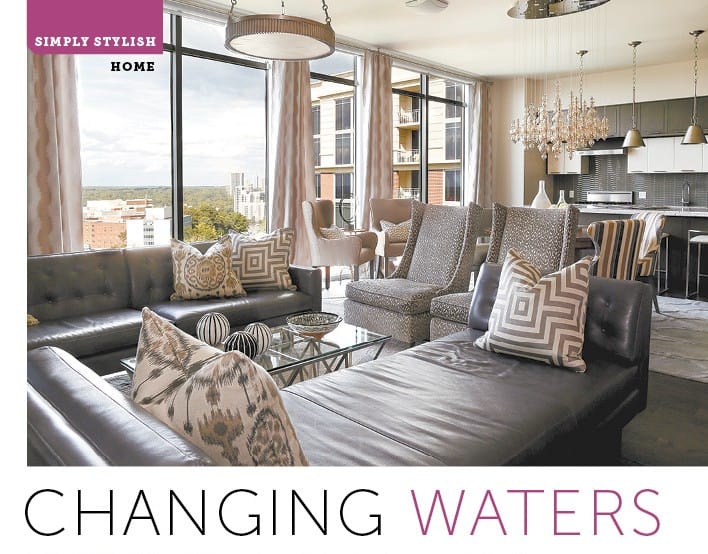 The impact that unique lighting can add to a interior design plan is often overlooked.  In the open concept kitchen/living area below there are three different stunning fixtures used.  A classic bubble chandelier from Cyan Design, along with  metal schoolhouse inspired pendants and a  modern disc chandelier from  Hudson Valley Lighting.  All three work  together to create an inspired lighting design .  Don't be afraid to mix up your lighting it adds interest, style and another layer to the space.
The galley style kitchen is sleek yet warm because of the tone of grey that was used on the cabinets.  Grey with brown undertones are warmer than a blue undertoned grey and easier to mix with warm colors as accents.
The warmer grey used in the office furnishing and rugs below allow for the pops of orange in the pillow, accessories and art.  Mixing gold and silver metals is no longer a design faux paux.  They both live beautifully together in this warm inviting den/office.
A special thanks to Simply Buckhead for the wonderful article, and Sara Hanna for the photos! Great clients, incredible art, fantastic space, and a drop dead finished product – what more could a designer ask for?
Let me know what you think.
John Ishmael