Brown Paper Packages Tied Up With String!
As many of us do, I absolutely love the Christmas season.  As soon as Thanksgiving is over I start listening to Christmas music and getting out decorations.  One of my favorite things about the holiday is giving presents to my loved ones!  Wrapping those presents can get a little boring with plain old paper so this year I have decided to get creative and I found a few images of artistic gifts to inspire!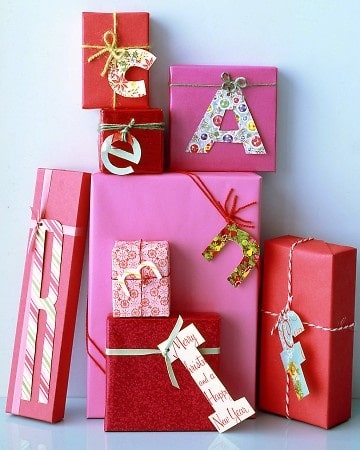 Keeping the paper solid and having fun with the ribbon and tags is the best way to go.  This is an imaginative way to identify who the gift is for, the letters can be cut from scraps or purchased at a craft store.
This is an inexpensive way to do something different, newspaper and old maps make great wrapping.  The bows dress the box up while still keeping it simple!
The most interesting thing about this idea is that it incorporates the sense of smell.  Craft paper is a great base for many wonderful packages, this one in particular is impressive for its simplicity.
Taking the time to layer ribbon and add three-dimensional elements will be noticed and greatly appreciated. Also, incorporating over sized pieces and different textures will add even more interest.
This is a beautiful image not only for the wrapping but also the way it is displayed.  These little animals are a fun and unique piece to add to any plain package!
Here we have one of my favorite discoveries of this holiday season, gold wired twine!  We used it on our presents for Christmas at Callanwolde and they have been a huge hit, layered with other ribbons on white or craft paper you can not go wrong!
This last image is more of a dream for me, not so much something that I would actually do.  These presents are wrapped in fabric and although this seems a little far fetched the result is beautiful!
We took inspiration from these gifts to create our wrapping design for the tree at Christmas at Callanwolde!  We had a lot of fun and really raised the bar on our own personal wrapping!
Come check out the Billiard Room and the other stunning designs at Christmas at Callanwolde. Also if you need some gifts to fill those boxes stop by Nandina Home & Design, we have many exciting gifts and accessories!