Before + After: Updated Sunroom
After 10 years in Aiken, Fred and Dede Dohse pondered what to do with the sunroom on the back of the house close to the pool.  Other than coming in handy as an overflow dining room for the grandchildren during holiday or family gatherings, the room sat unused.  They even discussed demolishing it, but in the back of their minds wondered whether all that natural light in the room might be put to better purpose.
After consulting with Designer Aimee Rusch, the Dohses changed their minds about demolition and are happy they did. "The updated sunroom has transformed our daily life," commented Dede after the project was complete.
The room went from being flat and monochromatic, with no life, to one enveloped in warm woven texture from the Thibaut grasscloth wallpaper and natural seagrass rug.  Vibrant pops of color in fabric brought life into the space through the sunny yellow Schumacher trellis fabric window treatments and the bold Thibaut floral print on the pillows and ottoman that reflects Dede's love of gardening.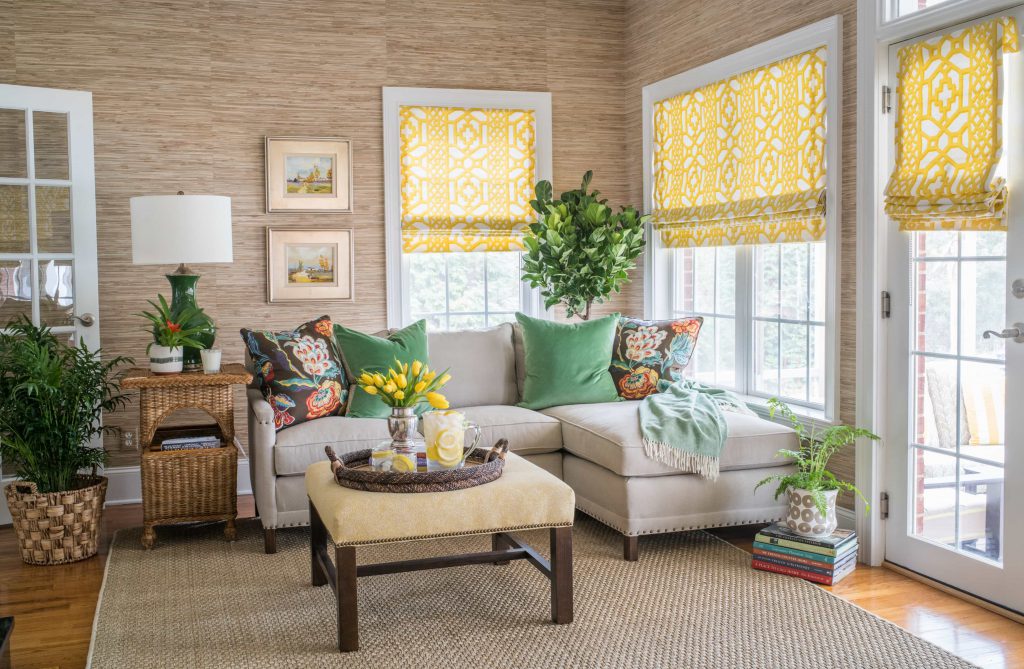 Fred and Dede now find their newly refurbished sunroom so warm and inviting that they use the room every day to enjoy their morning coffee, read, and catch up with friends.
"I am often surprised to find myself being 'still' in the sunroom and I am never still!  It is a restful, calming room that makes me smile every morning," said Dede.