Atlanta Homes & Lifestyles Show House
Fresca and I just had the exciting opportunity to be part of the Atlanta Homes & Lifestyles Show House that opens this week!  (The home is open until December 9.)  Fabulous designers and retailers from across Atlanta came together to create this year's exquisite home in Chastain Park.  This new construction home blends beautifully into its historical neighborhood, as Dovetail Homes left no detail unattended.  The fresh, white brick and stunning solid walnut doors greet you from the outside, and luscious designers welcome you inside!
There could not be a better designed home for entertaining.  The dining space is central to the floor plan, and there are several sizes of spaces to accommodate any size soiree!  There are intimate spaces, such as the living room and the library. The floor plan also incorporates larger spaces like the massive dining room and the open living space comprised of the family room, breakfast room, and kitchen.  I literally swooned in the family room.  It was absolutely incredible.
We had the honor of being part of the table top design!  Entertaining is a central portion of the holiday season, and we were thrilled to be part of designing a space that we would love to share with our guests.  We were inspired by one of our favorite holiday tunes, the Twelve Days of Christmas, and we created a tabletop based on a deconstructed 'partridge in a pear tree'.  We layered glam and graphic with neutral and natural to create a festive space for four!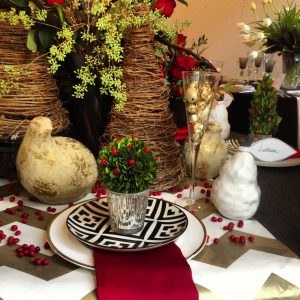 Our custom workroom made this 48″ round tablecloth that draped to the floor (I must tell you that Hermes – who had the table beside us – was even jealous of its beauty!), and we ran a Cake Paper runner down the center of the table.  If you've never heard of Cake Paper, please stop by and see our collection at Nandina!  They make all sorts of lovely disposable serving papers, placemats, and table runners!
The centerpiece is a collection of twig Christmas trees punctuated by a trio of floral arrangements and golden partridges.  Using a collection of smaller arrangements is a wonderful way to still make a big impact at the dinner table, but they can easily be taken apart and spread throughout your home after your dinner party!
We also enjoyed getting to meet some of our table top designer neighbors!  Check out the luscious Hermes table and Owen Lawrence tables!  Aren't they lovely?
Please join us Friday, November 30 for Martinis and Mistletoe at our Atlanta Location to learn more holiday entertaining tips and share some nibbles and cocktails!  Also, definitely treat yourself to the AH&L Show House.  It is truly one of the most wonderful showcases I've seen in a while!  Come visit us downstairs!
Have a Happy Thanksgiving, and we hope to see you at our Holiday Entertaining event on the 30th!
See the best,
Lathem