Another Brick in the Wall
The accent wall is a fun trend that comes and goes but generally it is a way to liven up a space without too much commitment or add a focal point to a room.
This bedroom could have been quite boring but this beautiful floral wallpaper behind the bed adds interest and the room is still soothing due to the cool greys and purples.
Another type of bedroom, the baby's room, can be the perfect spot for a subtle accent wall.  This silver and white chevron wallpaper is a great addition but is not overwhelming.
In the tradition of historic homes, which I adore, there is often a brick wall.  Sometimes when an addition is made the exterior brick is left or in some cases a lot of effort is put into creating a perfect faux-brick wall, either way I think exposed brick is stunning and this kitchen is no different!
This red wall is more than a focal point, it is an art installation.  By keeping the furniture and the rest of the space neutral the wall, which must be at least twenty feet tall, really shines!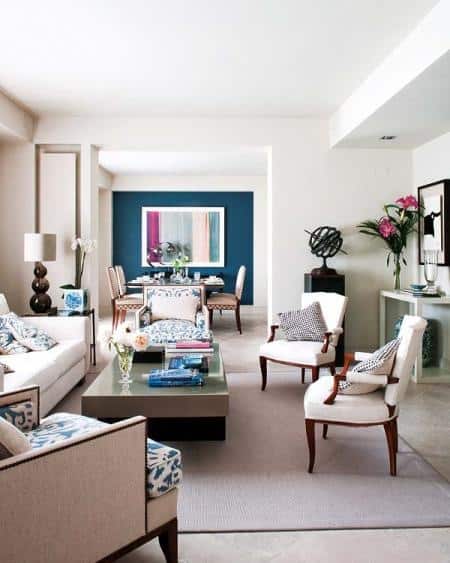 I absolutely adore this space, mostly because the accent color is one of my favorites!  The designer used a great mix of traditional and modern pieces.  One of the most interesting details is the contrast fabric on the club chairs that is the same color as the feature wall.
This wonderful graphic wall is temporary wallpaper, our favorite brand is Tempaper.  These papers are self-adhesive and easy to apply, an simple way to add some interest to your space!  Stop by Nandina Home & Design to see what other gorgeous wallpaper options are available.  Is an accent wall, or two, just the thing your home needs?