And So We're Told This is the Golden Age
When I think of New Year's Eve, I think sparkle and shine layered onto rich, dark night.  It's a night of contrasts.  It's the night when mystery mixes with excitement and anticipation.  Everyone dons their elegant dresses, jewels, and sharp suits and readies for the magical moment when they can brush the bad memories of the year under the rug and pair the good ones with a year full of new, shiny experiences.
Lately I have been really intrigued by interiors that have this same quality: rich navy, black, or grey paired with shimmering gold accents.  The contrast is incredibly sophisticated and can be applied in just about any room in the home.
I have long loved this bedroom.  The stark contrast of the black and white pattern against the shimmering gold lamp gives great depth and texture to the room.  I really appreciate how the designer paired two different patterns on the bed.  Folks are too often afraid of mixing patterns, and here is an excellent example of how outstanding it can look when done just right.
Is this dining room incredible or what?  The rich navy drapes are so dramatic against the stark white wall.  The deep navy chairs pop against the white rug, and the wow-factor table base glimmers as the star of the show in the middle of the room.  I also love the whisper of gold in the light fixture.  It's a subtle touch that really ties the gold into the room.  I would love drinking some bubbles at this table for sure!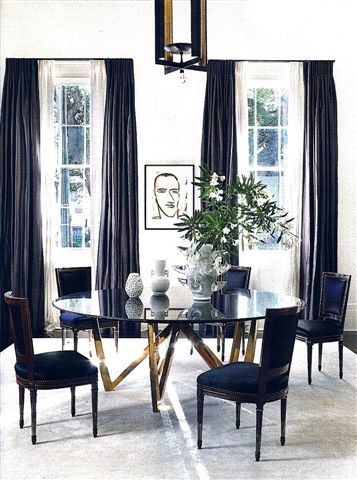 Talk about an luscious living room!  The inky black bookshelves, coffee table, and velvet sofa fill the space with mystery and warmth.  They are all the perfect base for making the stunning golden accents of this space pop.  The vase, picture frame, and other accessories are like the perfectly selected jewelry for the classic little black dress.  Do you spot the incredible golden feet on the sofa?  Wow!
Work meets play in this office styling.  You can even have all the glam and elegance of New Year's Eve in your workspace.  I love how layered this desk is.  If the designer had not kept to a palette, it may have appeared haphazard, but the consistency of gold, black, and white, gave this vignette a perfectly textured interest.  I also appreciate the inclusion of flowers.  I love to have something living in every home, and the use of florals here really softens the space.
I hope that you are inspired to add some drama and glitz to your every day life!  I know I am!  If you need any help adding pizazz to your interiors, please stop by our Nandina showroom.  One of us on the design team will be delighted to assist you in your endeavor!  May your New Year's Eve be a spectacular celebration, and may your new year bring you many wonderful experiences!
See the best,
Lathem