And Comfy-Cozy Are We
A couple of weekends ago, I had the joy of retreating to the mountains with some of my dear friends.  We holed up in a wonderfully cozy cabin with fireplaces and rustic finishes overlooking the valley.  There was something very therapeutic about the experience of the space as well as the festivities.  Cozy interiors have a way of enveloping you – lulling you into long afternoon naps, pulling out wonderful storytelling, and inspiring festive feasts.  In this chilly season, I crave such warmth in my interior environment; I find there are several components that help make a space 'cozy'.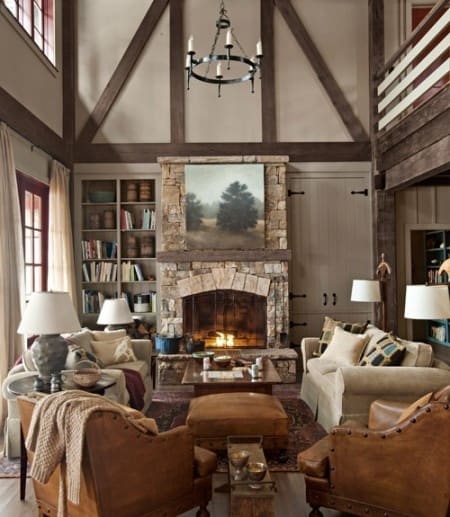 1. Natural Elements are essential to creating a cozy space.  Whether it is reclaimed wooden beams, stacked stone, leather, animal hides or antlers, or nature prints, adding just a few will really warm up a room.  You'll notice that one or more of these elements are present in all of these images.
2.  A fireplace is always a good idea when creating an environment for hunkering down.  Even if it isn't lit, it still has a classic sense of warmth.
I absolutely love this room by Atlanta's Jimmy Stanton.  It has every element of a cozy room without being overly dark.  I particularly like the rustic sideboard; it's similar to one of my favorite chests by Dovetail Furniture seen here.  I could definitely spend hours drinking wine with friends, napping, or reading in here.
3.  Books are a great way to suggest that visitors spend time in the space.  Don't you just want to pluck one of those books out of the pile and lounge in one of those lovely black velvet wingbacks?
4. Rich, dark colors are essential to creating a nook feel.  Chocolate, black, deep grey, and navy are excellent choices when searching for your grounding color.  The deep wood table, windows, and banquette in this dining area make this the kind of dining table where you could have a long brunch as easily as a casual dinner.
5. Menswear fabrics are another wonderful way to bring texture into a room, and they pair well with organic and geometric prints alike.  I love the use of plaid in the shams on the bed as well as the wool suiting fabric on the throw.  I am certain that I would never make it anywhere on time if I woke up in this bed each morning.
6.  Furniture placement and formality can have a lot to do with how welcoming a space is.  Even a kitchen can be cozy!  The casual way the dining room is placed inside the kitchen suggests that this family enjoys the process of creating meals as much as they do eating them.  I also love the dark cabinetry and tiling that frame the farmhouse trestle table.
In this frigid season, I hope that you find many ways to warm up your home!  If you need any assistance, our Nandina Home & Design team will be happy to help!
See the best,
Lathem