A Little Holiday Inspiration
Now that there is a slight chill in the air, we are getting very excited about the holidays and our upcoming events!  Not only are we working on transforming our stores for the Holiday Mixers, on November 21st in Atlanta and December 5th and 12th in Aiken, but we are also putting together a table at the Atlanta Homes and Lifestyles Holiday Showhouse and the breakfast room for Christmas at Callanwolde.
Last year at our entertaining event in Atlanta we spoke about focusing on the details of holiday entertaining. In this image we discussed simple ways to spruce up your bar by adding pops of color!
Our first table encouraged us to not forget about the younger generation when planning an event. We used many items to make the night more fun for the little ones and some of the big kids!
The last demonstration offered different types of place card holders and other tips for putting together a table that would encourage conversation.  The left photo shows a pomegranate with simple twine to hold the name tag in place and the photo on the right has interesting facts about the guest, great for groups that may not know each other very well.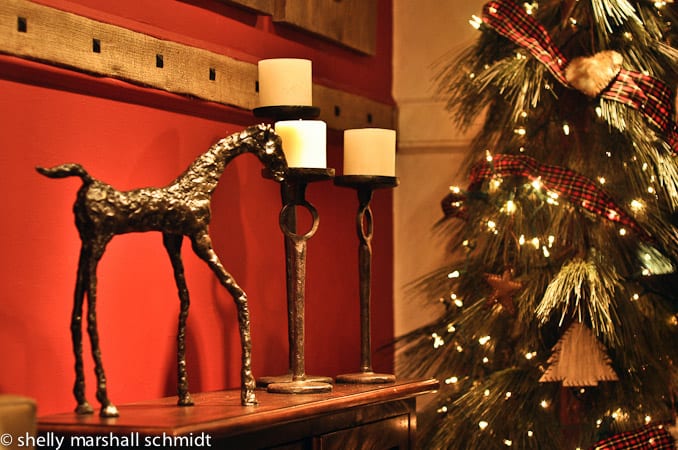 In Aiken the decor was a traditional rustic look.  This shot of the holiday window combines a few of our favorite iron accessories with hide ornaments and a classic tartan ribbon.
This close up shows beautiful greenery mixed with porcelain artichokes to create a simple holiday look on any sideboard.  As another part of the seasonal display the Aiken team created this stunning stack of wood with votives incorporated to bring the outdoors in!
We are very excited to do a table at the Atlanta Homes and Lifestyles Holiday Showhouse once again, especially because our table from last year was given a full page spread in the current issue!  The November issue of AH&L focuses on the designers for this year's house.  Our photo was given the honor of not only a full page but the first page in the article about last year's tables!
Since we used bright red and glittery gold last year, our approach this year will be more earthy and old world.  We can not say exactly what the design will be but you will certainly see old books, moss and lots of greenery.  We invite you to stop by and see the end result, the Home for the Holidays is open November 15th thru December 8th!
This beautiful digitally enhanced image is the Billiard Room at Callanwolde.  Last year we transformed it into a "traditional living room that was taken over by elves"! This year we have the Breakfast Room and we are very excited to help the other designers create a magical world of Christmas!  Christmas at Callanwolode runs December 6-17, we can't wait to see you there!